Deposit Products
Everything you need for Your Money Handling Needs
Single Pocket Bag Clear 9 x 12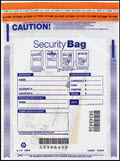 Make after-hours deposits and protect them from theft with heavy duty bags that meet all Federal Reserve guidelines! Ultra-level, tamper-evident closure provides the highest degree of security to protect against theft and alteration. Use a Security Bag Endorsement Stamp (D2037) to imprint your name/banking information easily and accurately
Security Bag Endorsement Stamp

Let the stamp dry for 60 seconds to prevent smearing. Use it on your deposit tickets as well. This unique stamp is designed as an endorsement stamp that can work on our plastic security bags making it even easier and more accurate to deposit your money. Other inks will smear Stamp impression size: 2 1/8 x 3/4
Single Pocket Bag Opaque 9 x 12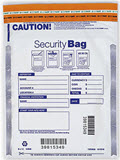 Make deposits after-hours, and protect deposits from theft with heavy duty bags that meet all Federal Reserve guidelines! Ultra-level tamper-evident closure provides the highest degree of security to protect against theft and alteration. Use a Security Bag Endorsement Stamp (D2037) to imprint your name/banking information easily and accurately
Clear Single Pocket Money Handling Bag 10 x 15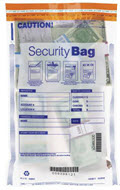 Make after-hours deposits and protect them from theft with heavy duty bags that meet all Federal Reserve guidelines Ultra-level, tamper-evident closure provides the highest degree of security to protect against theft and alteration. Use a Security Bag Endorsement Stamp (D2037) to imprint your name/banking information easily and accurately
Cash Money Handling H Bag 19 x 28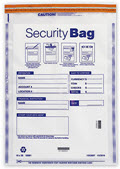 Large, super heavy duty security bags for high volumes of cash. Ultra-level tamper-evident closure provides the highest degree of security to protect against theft and alteration. Use Security Bag Endorsement Stamp (D2037) to imprint with your name/banking information for accurate processing
Clear Drop Safe Style Money Handling Bag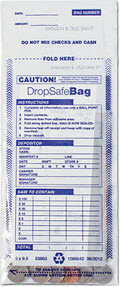 Add an extra degree of security to your drop safe deposits by first placing cash in this bag. Or, have your employees use this bag internally for smaller amounts of cash. Our tamper evident closure helps protect against theft
Coin Bag Large, 22 x 12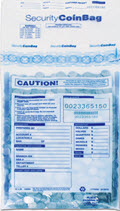 Transport high-volume coin deposits securely with these large coin bags! Sturdy handles make these heavy duty coin bags strong enough to carry 50 pounds of coins. Our tamper evident closure helps protect against theft.Use with Security Bag Endorsement Stamp (D2037) to imprint with name/banking information for fast, accurate processing
Dual Pocket Security Money Handling Bag 10 x 15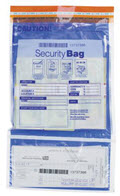 Make after-hours deposits and protect them from theft with heavy duty bags that meet all Federal Reserve guidelines! Ultra-level, tamper-evident closure provides the highest degree of security to protect against theft and alteration. Dual pockets keep cash and checks separate. Use a Security Bag Endorsement Stamp (D2037) to imprint your name/banking information easily and accurately. Clear front provides an easy view of the bag's contents. Fold it in half and the opaque back hides contents while in transit
Heavy Duty Coin Bag Small 10 x 13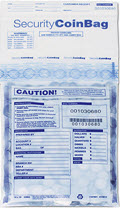 Transport high-volume coin deposits securely with these small coin bags! Sturdy handles make these heavy duty coin bags strong enough to carry 25 pounds of coins. Our tamper evident closure helps protect against theft.Use with Security Bag Endorsement Stamp (D2037) to imprint your name/banking information easily and accurately
Single Pocket Bag Clear Large 15 x 20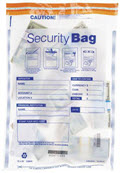 Make deposits after-hours, and protect deposits from theft with heavy duty bags that meet all Federal Reserve guidelines Ultra-level tamper-evident closure provides the highest degree of security to protect against theft and alteration. Use a Security Bag Endorsement Stamp (D2037) to imprint your name/banking information easily and accurately
Single Pocket Money Handling Bag Opaque 10 x 15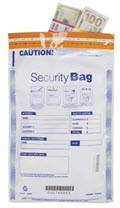 Safeguard your after-hours deposits with heavy duty bags that meet all Federal Reserve guidelines Ultra-level tamper-evident closure provides the highest degree of security to protect against theft and alteration. Ensure smooth processing and reduce the risk of errors by using a Security Bag Endorsement Stamp (D2037) to imprint your name/banking information easily and accurately
Twin Money Handling Bag Horizontal 14 x 10

Make deposits after-hours and protect deposits from theft with heavy duty bags that meet all Federal Reserve guidelines Ultra-level tamper-evident closure provides the highest degree of security to protect against theft and alteration. Side by Side dual pockets keep cash and checks separate. Use a Security Bag Endorsement Stamp (D2037) to imprint your name/banking information easily and accurately
Do Not Deposit Money Handling Bag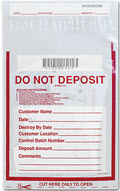 Stay organized while using Remote Deposit Capture If you are depositing checks from your home or office, use these security bags to store the checks after scanning. Keeps your scanned checks safe from theft until you are able to dispose of them
Twin Money Handling Bag Vertical 9 1/2 x 15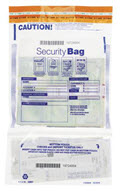 Make after-hours deposits and protect them from theft with heavy duty bags that meet all Federal Reserve guidelines Ultra-level, tamper-evident closure provides the highest degree of security to protect against theft and alteration. Dual pockets keep cash and checks separate. Use a Security Bag Endorsement Stamp (D2037) to imprint your name/banking information easily and accurately.
PermaLOK 4.5 x 7.75 Strap and Note Bag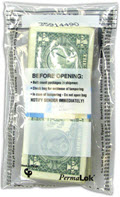 Specifically designed to fit common strapping configurations. Cost effective. Side weld construction and hot melt technology. Perfect for drop safe applications. Designed for individual straps.
CoinLOK 10 x 19 Coin Money Handling Bag
Used every day by major armored couriers and banks, CoinLOK provides the convenience of a single-use bag while matching the strength of many reusable bags. CoinLOK fits all major coin counters and sorters, improving efficiency and security of your coin processing
CoinLOK 12 x 25 Coin Money Handling Bag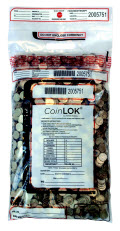 Will carry roughly 25 lbs of coins
CoinLOK 13 1/2 x 25 Coin Money Handling Bag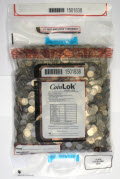 TripLOK 20 x 20 Currency Money Handling Bag

TripLOK sets the standard for security and Fed compliance. Its patented features help reduce losses from theft while at the same time improving efficiency of your vault and cash transport operations
TripLOK 20 x 28 Currency Money Handling Bag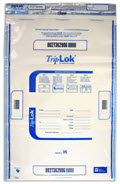 PermaLOK 5 3/4 x 8 3/4 Till Bag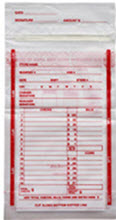 SafeLOK 10 x 15 Vertical Twin Money Handling Bag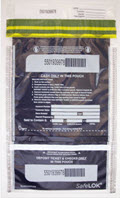 SafeLOK 13 1/2 x 10 Horizontal Twin Money Handling Bag

SafeLOK 14 x 20 Vertical Twin Money Handling Bag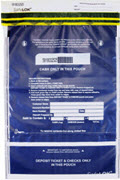 Bank Deposit Bags - Deposit Tickets - Deposit Advice Slips - Security Products - Journals - Receipts - Stamps